Go Back to the staff directory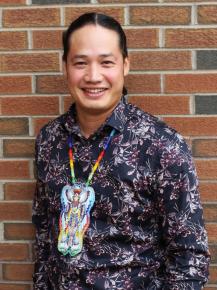 Patrick Mitsuing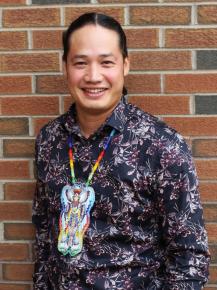 Learning Services Coordinator (Indigenous Education)
Phone: (403) 227-7039
Email: pmitsuing@cesd73.ca
Key Roles
Patrick is a Cree from the Makwa Sahgaiehcan First Nations. He is an entrepreneur, public speaker, International Track & Field Athlete, World Champion Men's fancy dancer and an advocate in promotion of Indigenous Culture and Language.
As an athlete he became an International Track and Field competitor winning many awards and still holds records for Long Jump and High Jump.
Raised by his uncles and aunties he found culture and Powwow. Soon he fell in love with Fancy Dancing and became a 3x World Champion dancing in many big events such as Gathering of Nations and Indian Nationals Finals Powwow, and the National Indigenous Cultural Expo.
After completing college in small business management and sales & marketing, he ventured off starting numerous businesses. His first success was a mobile smoothie business which he started on the Powwow trail. That lead to buying into a Quiznos and Domino's Pizza franchises.
Throughout his experience running businesses he started to learn Internet marketing which wasn't being taught in Universities at the time.
This lead Patrick to learn Internet Marketing from live workshops and conferences held in Las Vegas, Chicago, Florida, and Denver. With this knowledge Patrick started an online media company called Powwow Times which shares Indigenous content to an audience of over 2 million+ people per month.
Now a days Patrick lives his passion everyday by travelling the world for business and dance, speaking to motivate the youth, mentoring and coaching, providing presentations for song and dance, and documenting it all through his social media handle, Powwow Times.